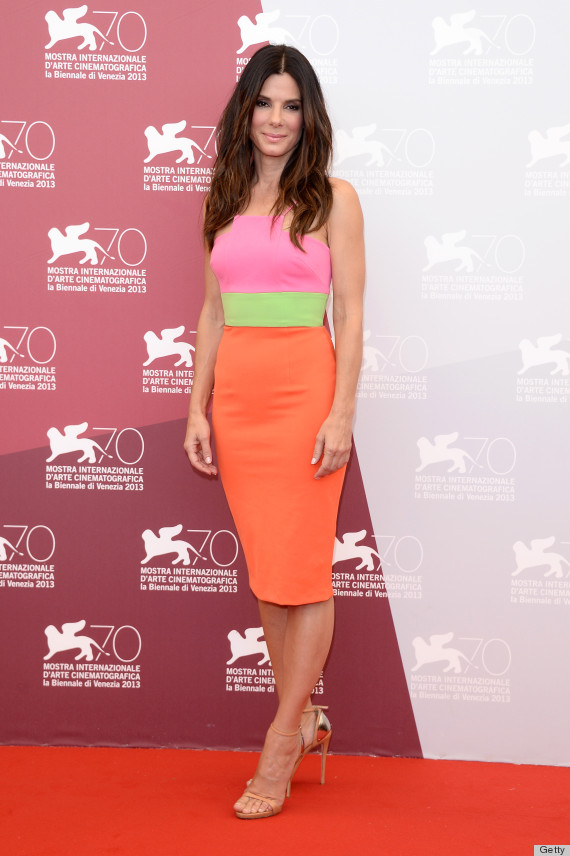 Image via huffingtonpost.com
While street style will always inherently attract me more so than the red carpet, I still find it immensely entertaining to observe who's wearing what. Inevitably there are always a few ladies who turn it out flawlessly while still preserving an individuality that is so rare in these times of red carpet stylists. Without further ado, this is who caught my eye this week.
I simply adore this Alex Perry neon sheath that Sandra Bullock chose for a photo call at the Venice Film Festival. Alex Perry, an Australian designer, rarely makes the red carpet north of the equator, so I definitely found this to be an interesting choice, particularly for someone like Sandra who tends to play it relatively safe. The silhouette reminds me of Narcisso Rodriguez and the color combination is super fresh. I hope Sandra keeps this up, j'adore!
Image via becauseimfabulous.com
Ali Larter attended the release of her new cookbook, "Kitchen Revelry" last night, wearing a gorgeous floral frock from Marchesa's 2014 Resort collection. I LOVE it. It is so fun and flirty, and I adore that she chose minimal accessories. What's more, I'm incredibly intrigued that she's releasing a cookbook! Must check that out!
Image via vogue.com
Lily Colins was in Mexico, promoting her new film "The Mortal Instruments." (Please tell me we don't have another Twilight on our hands!) Now I have noticed a prevalence of leather skirts for fall this season, and I want one, bad. I love the shape of Lily's, similar to a kilt. She paired hers with a Rachel Zoe striped sequin tunic and Brian Atwood pumps. Flawless.