Image via neimanmarcus.com
The holiday season is fast approaching, and for once I think I just about have everyone on my list sorted out. All gifts have either been purchased or bookmarked for purchase, and now I finally have time to figure out what I'd like to receive for the holidays. High up on my list is an Eddie Borgo bracelet. I love everything about his jewelry and am already the happy owner of a pair of rose gold pave pyramid earrings, so naturally I need a few more pieces to compliment them! Spoiler alert- I already know that this absolutely stunning rose gold pyramid stud bracelet will be awaiting me under the Christmas tree. (Thanks mom!)
Image via wsj.com
Betty Halbreich was easily my favorite part of the documentary "Scatter My Ashes At Bergdorf's." For those that aren't aware, Betty has been a personal stylist with Bergdorf's since the 1970's and continues to dress some pretty powerful people today. Lena Dunham is even working on a television show based on her experiences. She recently released her autobiography and I've been dying to get my hands on a copy in order to see if her acerbic wit has translated to the written page.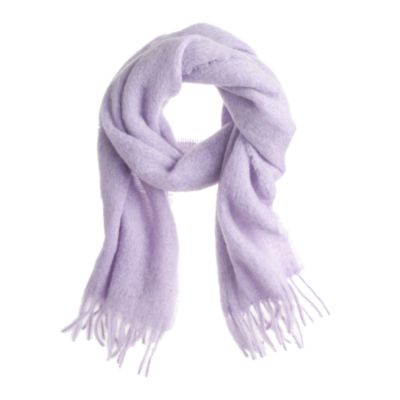 Image via jcrew.com
My favorite place in the world to purchase scarves is hands down, J. Crew. No one does it better for such an amazing price point. I LOVE this Italian Brushed Scarf in lavender mist- it looks so cozy! This is absolutely at the top of my wish list.
Image via dailymail.co.uk
For years I've enjoyed reading The Edit on Net-a-porter.com, so I was absolutely beside myself when I found out they would be publishing 6 issues a year under the masthead Porter. A subscription to what has easily become my favorite magazine is kind of a no brainer- they offer 63% off the cover price, and they publish special covers for subscribers like the insanely gorgeous one of Christy Turlington, shown above.
Image via shopbop,com
Lastly, I am full on obsessed with this Nyos lariat necklace from Elizabeth and James. I love it. I've coveted this since the summertime and was bummed not to receive it for my birthday, but there's always Christmas right? Fingers crossed! If Santa Clause slipped any of these treats under my Christmas tree, I'd be one happy camper!